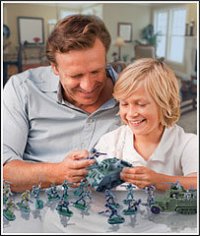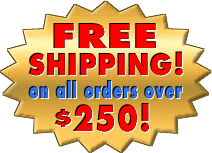 APPLIES TO US ORDERS ONLY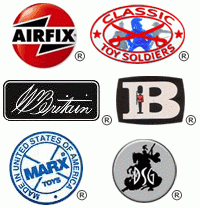 ---
Welcome to America's toy soldiers store! Battlefield Legends Toy Soldiers is an ebay Top Rated Seller and an approved Amazon Merchant with over 3,500 satisfied customers and growing! We ship worldwide and gladly accept most major credit cards, Paypal, personal checks and money orders. Relive and share your boyhood memories with these classic plastic toy soldiers and military miniatures from Airfix, Britains Deetail, W Britain, Marx, CTS, DSG and more in both 1/32 (54mm) and 1/72 scale.

Battlefield Legends Toy Soldiers
Plastic Toy Soldiers & Collectibles
5506 Carville Avenue, STE 1
Baltimore, MD 21227

Phone Orders: 410.247.1269
info@battlefieldlegends.com




Just Arrived! New Cattle Drive Chuckwagon from Black Hawk!


Now 2 Great Stores for toy soldiers, paints, model kits, diecast planes and more!

Save an extra 5% all month long.

Enter Promotion Code CYBER5% to redeem your discount

Special Offer! W Britain Unopened 48 Piece Counter Box just $129.98!

Civil War Confederate and Union Infantry. All new paint schemes! Box includes Confederate Virginia Infantry, Confederate Infantry in Butternut, Union Irish Brigade Infantry and Union Berdan's Sharpshooters in green! Get your box while supplies last! CLICK HERE FOR DETAILS




Thank you for visiting Battlefield Legends Toy Soldiers! Be sure to join our email list for special coupon offers and don't forget to enter to win a $50 Shopping Spree. The Battlefield Legends Toy Soldiers store offers a wide range of quality and affordable 1:32 (54mm), 1:35 (46mm) and 1:72 (22.4mm) plastic toy soldiers, playsets and metal military miniatures from W. Britain, Britains Super Deetail, Airfix, DSG, MARX and more! Find all your boyhood favorites including French Foreign Legion, Arabs, US 7th Cavalry, US 10th Cavalry Buffalo Soldiers, Indian Warriors, Napoleonic French Infantry, Mexican Bandits, American Civil War Union and Confederates, Romans, Vikings, US Rough Riders, WWII Japanese Infantry, WWII Free French Infantry, covered wagons, diorama pieces and more!