Marx Playsets and Toy Soldiers Review!
Entry Date July 2009
Marx Battleground Europe Playset straight from page 521 of the 1966 Sears Wishbook!
Here's your chance to recapture a childhood memory with one of the most sought after of all Marx playsets...Battleground Europe. This classic Marx playset featured 330 Marx toy soldiers, vehicles and accessories priced for just $9.89 and valued at a small fortune today! A plastic playmat was also available for a mere $0.49 more. This set included 78 WWII US troops plus the highly sought after Marx French and British sets along with 64 battle hardened German troops. And a surplus of Marx tanks, artillery, planes, and even an exploding bunker for hours of fun!
If you were on the nice list back in 1966, you may also have found the expanded 330 piece Marx Battle of Fort Apache playset under your tree. Not a bad haul for Christmas!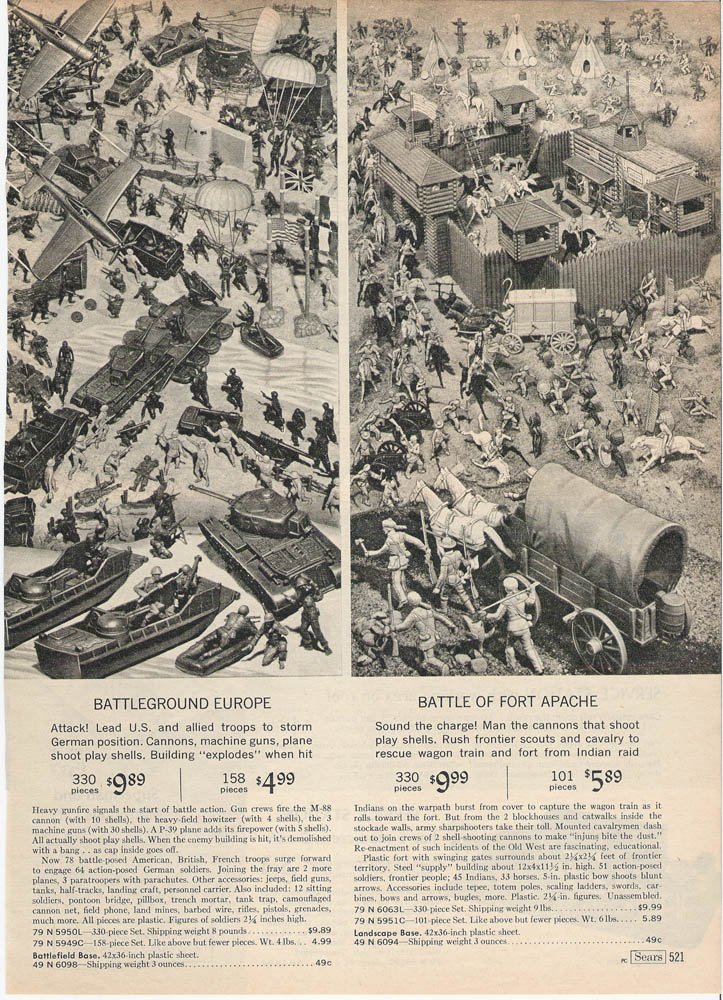 Entry Date May 2009
Christmas 1964 Sears Wishbook! Classic Marx miniature playsets including Custer's Last Stand, 20 Minutes to Berlin and Battle of Vikings and Knights.
What $30 could buy back in 1964...Three of the classic Marx hand-painted miniature playsets in HO scale that now sell for hundreds of dollars each. These beautifully produced sets featured dozens of detailed figures and accessories including castle with drawbridge, catapults, covered wagons, destroyed buildings and plenty of heavy armor.
The Marx line of miniature playsets was manufactured from 1963-1967 and also included the rare Guerrilla Warfare and Charge of the Light Brigade sets.