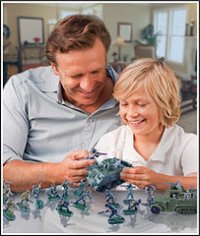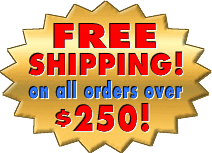 APPLIES TO US ORDERS ONLY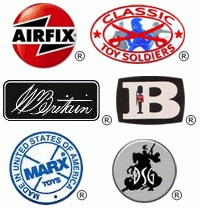 ---
Welcome to America's toy soldiers store! Battlefield Legends Toy Soldiers is an ebay Top Rated Seller and an approved Amazon Merchant with over 3,500 satisfied customers and growing! We ship worldwide and gladly accept most major credit cards, Paypal, personal checks and money orders. Relive and share your boyhood memories with these classic plastic toy soldiers and military miniatures from Airfix, Britains Deetail, W Britain, Marx, CTS, DSG and more in both 1/32 (54mm) and 1/72 scale.
eBay Store


Battlefield Legends Toy Soldiers
Plastic Toy Soldiers & Collectibles
10804 Liberty Rd
Randallstown, MD 21133

Phone Orders: 410.247.1269
info@battlefieldlegends.com



Battlefield Legends Toy Soldiers > "BUTTERNUT"

$18.98

Out of stock. Restock date not set.

Marx Civil War Playset Reissue Confederate Toy Soldiers in Butternut 22 Figures

New from Battlefield Legends! A classic set of 22 Marx reissue 1/32 (54mm) Civil War Confederate soldiers in all ten first issue poses cast in Butternut. This set makes a wonderful addition to any Marx collection or American Civil War diorama.




$18.98

Out of stock. Restock date not set.

Marx Playset 54mm Civil War Confederate Cavalry 4 Mounted Cast in Butternut

New from Battlefield Legends! A classic reissue set of 4 mounted Marx 1/32 (54mm) Civil War Confederate cavalry figures with horses cast in butternut. This set makes a wonderful addition to any Marx collection or American Civil War diorama.


$10.98

Out of stock. Restock date not set.

Civil War Toy Soldiers 54mm Confederate Infantry Set Cast in Butternut

New from Battlefield Legends! TSSD American Civil War Confederate infantry set cast in classic butternut. Includes eight (8) beautifully sculpted and highly detailed 54mm plastic figures in eight (8) poses with standard bearer. This set makes a wonderful addition to any toy soldiers collection, Marx collection or American Civil War diorama.


$169.45

Out of stock. Restock date not set.

ALL NEW! Britains Deetail Civil War 48 Piece Counter Box Special Set No.2

New from Battlefield Legends! The finest plastic Civil War toy soldiers produced by W Britain to date. This special unopened display Counter Box offer features 48 individually packaged figures in all new paint schemes. Set includes Confederate Virginia Infantry, Confederate Infantry in Butternut, Union Irish Brigade Infantry and Union Berdan's Sharpshooters in green! Get your box while supplies last!


$30.45

1 available

Britains Deetail 52001 Civil War Confederate Infantry Butternut Set Gift Box

Just arrived at Battlefield Legends! The finest plastic toy soldiers produced by W Britain to date. This new collection of 6 American Civil War figures features updated painted schemes from the original Britain's molds and includes one regimental flagbearer, 1 kneeling shooting figure, 1 standing shooting figure, 1 charging figure, 1 loading musket figure and 1 officer in gift box. Includes flag sheet!


$16.45

1 available

Armies in Plastic 54mm Civil War Confederate Infantry 18 Figures in Butternut

New from Battlefield Legends! Now you can recreate the great battles of the American Civil War with these highly detailed 54mm infantry sets from Armies in Plastic. This set of Confederate infantry includes 20 figures in 10 poses. Figures are cast in buttternut and are ready for play, display or painting. This item is shipped to you mint in box. A terrific set of highly sought after figures!

Price: $18.45 Sale Price: $16.45 You Save: $2.00 (11%)